Your car is an important investment, which is why many car owners look for inventive ways to protect them from the elements. While most people know they should focus on the maintenance of the engine, tires, and lights, they often don't consider the interior and the paint. American Tinters offers professional glass tinting and paint protection services that will keep your vehicle looking great for years to come
What we offer:
Premium Ceramic Automotive Window Tinting
Available at Grapevine's only Llumar SelectPro Dealer
Window tinting is a skilled process of applying a high-tech protective film to a vehicle's glass. to darken it. There are many benefits to tinting your car's windows, including but not limited to:
Improved Aesthetics/Privacy – Tinted windows improve the look of your new car and protects its contents by shielding them from the outside.
Keeps Your Car Cooler – Tinted windows help reduce the heat in your car by blocking out the sun's rays. Keeping your car cool is especially important during our notoriously hot summers.
Cuts Down Glare – With darker windows, the glare from the sun is reduced, giving you better visibility.
Protection from Sun Damage – UV and UVA rays can cause skin cancer. Our LLumar and FormulaOne films block 99% of the UV and UVA rays. You will be protecting yourself while also protect your interior from cracking and fading.
Improves Fuel Economy – When you have your air conditioning cranked high, the fuel economy of your car lowers. With tinted windows, your car will stay cooler, allowing your vehicle to make better use of its fuel.
Additional Tint Application Areas you should consider: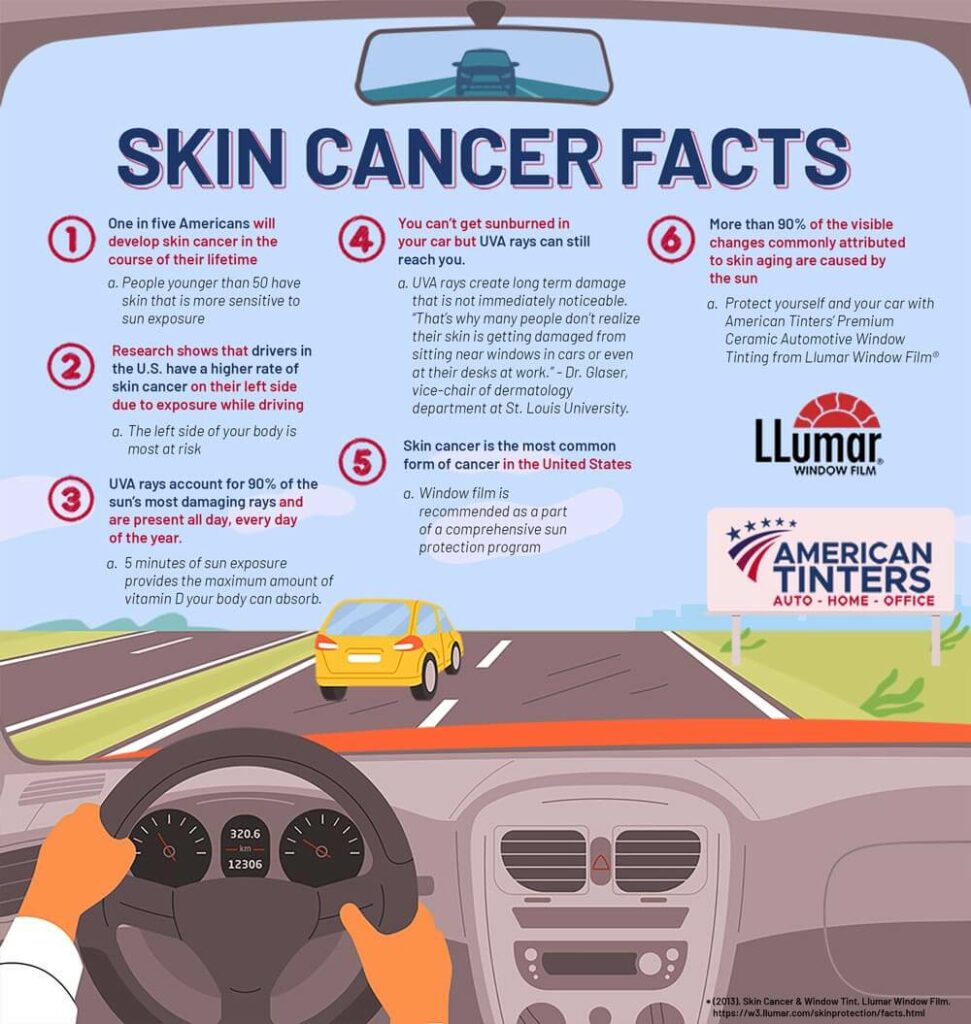 Windshields – Did you realize your windshield is likely the largest window on your vehicle? Applying film to the side and rear glass is smart, but it does not protect you from the harmful UV and UVA rays hitting your hands, arms, and face through the windshield. We address this issue with our specialized ceramic film (Llumar Air 80) Ceramic. This innovative film won't darken your windshield. The film is barely invisible once installed and offers the following benefits:
Heat Resistance – Air 80 reduces the heat in your car by 40%, keeping your car cooler during the summer and your family more comfortable.
Protect Against Skin Cancer – Our Air80 Ceramic creates a protective shield, preventing 99% of harmful UV rays from entering your car. This helps prevent harmful skin damage and cancer and is highly recommended by the Skin Cancer Foundation as a protective tool for your family.
Shatter Resistance – Your car's windshield will be reinforced, helping to protect it from shattering due to small rocks or debris.
Note: Windshields tinted with Llumar Air 80 film comply with Texas Administrative Code, Title 37, Part 1, Rule 21.3.
Sunroofs – Like Windshields, sunroofs can allow too much Texas heat to enter your car. We fix that problem by applying Sunroof Silver Tint. Offered only at American Tinters, our sunroof tint helps protect your family from harmful skin damage and heat, while still allowing your family to see the beautiful skies above. Our Sunroof Silver Tint rejects 80% of the sun's energy which keeps you cool and protected while retaining your view.
Llumar 10 Year Platinum Paint Protection Film
Protecting your car's paint is one way to ensure that it looks as good as the day you got it. Llumar paint protection film (PPF) is a clear film that is installed on the exterior of your car's paint to protect it from the elements. The paint protection film is incredibly resilient and designed to shield your car from road rash, rock ships, tar, bird droppings and other unpleasant things. Here is what you can expect from your automotive paint protection film:
Protects Your Car's Resale and Trade-in Value
Our paint protection film is high-impact resistant, protecting your car's paint from chips and dents due to rocks and other debris hitting your car. Combined with the chemical staining resistance of the urethane film, your car's paint will also be protected from corrosion and acidic contaminants, keeping your car looking shiny and new. This protects the resale and trade-in value of your car as it will require less "touch up" and "make ready" from a new owner or dealer.
Say Goodbye to Dirt and Grime
Paint protection film makes it easier to clean your car. Since dirt and grime have a hard time sticking to the urethane surface, there will be less of it to clean off. With a normal car wash, your car will come out looking slick, shiny, and brand new, as the dirt and grime are easily wiped away without affecting your car's paint.
Sun Fading Resistant
Paint protection film shields your car from harmful UV rays which can cause the paint to oxidize or fade over time.
Self-Healing Properties
One of the greatest things about paint protection film is that repairing scratches is effortless. Blemishes in the film can be easily removed from engine heat, the sun or other heat sources.
Save Money on Touch Ups
Thanks to the protective properties of our paint protection film, your car won't have that much to take care of when it comes to touchups. If you need a simple touch up on the film, we can help take care of that easily, keeping your car protected!
If you would like more information on automotive window tinting or paint protection film for your vehicle, contact American Tinters. Available at Grapevine's only Llumar SelectPro Dealer.