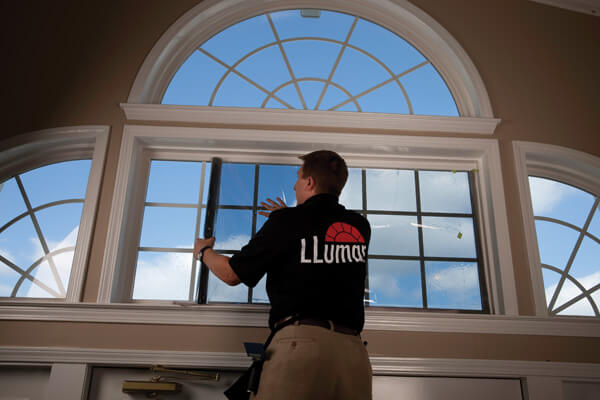 Decorative and Practical Home Window Tinting
When you're looking for ways to improve your home's energy efficiency, spruce up its appearance, or make it safer, residential window tinting is an ideal solution. At American Tinters, we provide premium ceramic window tinting for residential properties in the Dallas-Fort Worth Metroplex. Our specialists will help you choose the right kind of window tinting for your home and then install it perfectly and promptly.
At American Tinters, we offer solar window tinting, decorative window tinting, and safety window tinting for residential customers in the DFW area. We offer Llumar and Hüper Optik window films for residential properties, which means you are getting high-quality premium ceramic window films with superior benefits, and the best warranties in the business!
Solar Window Tinting
Your home's windows provide you with a great view of the outdoors and plenty of natural light, but they also let in solar heat. This heat can raise your energy bills in summer by making your air conditioner run more often to keep your home cool. Your windows might also be letting in too much sunlight, which can cause your rugs and furniture to fade over time. With solar window tinting, you'll control the amount of heat and light from the sun hat enters your home, leading to reduced energy needs and protection from sun damage to your interior decor. Our team at American Tinters offers Llumar and Hüper Optik solar window films for homes to help block out much of the sun's heat and damaging ultraviolet (UV) rays.
Decorative Window Tinting
Decorative window tinting can enhance the look of a partition or interior window in your home or even add privacy in certain areas, such as bathroom windows and showers. We can help you go through your options for patterned, gradient, colored, textured, frosted, or custom window films, so you can make sure that you get the right decorative film for your home.
Safety Window Tinting
Your home's windows serve an important function in your home by letting in natural light, but they can also make your home more vulnerable to intruders. Windows can become a hazard when they're damaged or hit with force. You don't have to put bars on your windows to keep thieves out or invest in new windows with stronger glass to protect your home from storms; instead, you can get Llumar safety window tinting installed by American Tinters.
Llumar safety and security window films make your windows more resistant to shattering, which helps reduce the risk of someone getting injured. These films also add a strong layer of protection to your home, which makes it harder for intruders to get in, while also lowering the risk of damage from severe storms, blasts, and other forces that can break glass.
If you're interested in residential window tinting for your home in the North Dallas-Fort Worth Metroplex, please contact American Tinters. Whether you need solar, decorative, or safety tinting for your windows, we can help you decide which high-quality premium ceramic window film fits your needs and flawlessly handle the installation process. Call us today!

Find out how to earn a Federal tax credit
of up to $500 for installing residential window film!
LEARN MORE