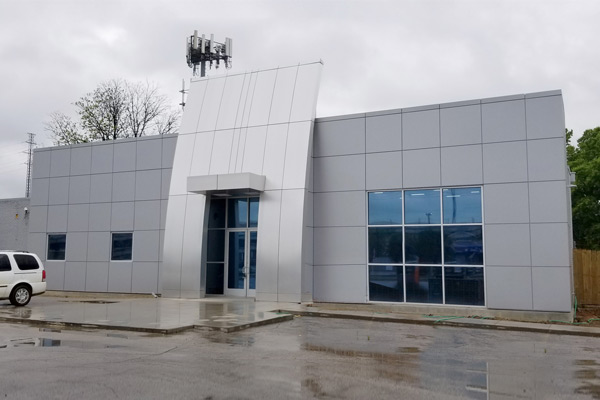 Enhancing Interior Design with Decorative Films
Your exterior windows provide your building with natural light and views of your outdoor surroundings, while interior windows and partitions can improve the flow of your space. With the right design, windows can also be used to enhance the appearance of your home or commercial building overall. American Tinters offers a wide variety of decorative films for residential and commercial customers to choose from. From frosted, patterned, colored, and custom-printed window films, our experts can help you decide on the best decorative choice for your building.
Our Llumar and Hüper Optik premium ceramic decorative window films can enhance specific features or areas inside your building, such as sprucing up stairway surfaces or displaying your company logo for customers or clients to see. They can also serve more practical purposes, such as creating added privacy on glass partitions or hiding unattractive areas of your building. When you have decorative films, you also don't have to invest in specialty glass for your interior, resulting in savings for your business.
Frost and Textured Decorative Window Film
Frosted and textured decorative window films from Llumar and Hüper Optik are a simple way to enhance a building's appearance. Textured options include frosted glass, sandblast, satin crystal clear, crackled glass, brushed crystal, and satin crystal. The type of texture that works best for your building will depend on where the window is and the kinds of effects you want to create.
For frosted decorative window films, American Tinters LLC can help you choose from among several designs. From traditional frosted glass to a striking bronze frosted tone and a silvery sparkling option, you'll find that there are many choices available. We can help you decide which option would look best in your interior space and then perfectly install it.
Special Color Window Films
The windows in your building don't have to maintain their clear glass appearance. Adding colored window films can provide your building with a more eye-catching look while still letting in natural light. American Tinters has many different colored films to choose from for your windows. You can use these films to add a bit of bold color to a specific area inside your building in order to create visual appeal. These colored films can also be used to filter natural light and create a certain ambiance.
The color or colors that are best suited to your building will depend on the ambiance or visual effects you're interested in creating. You can work with our team of specialists to come up with the perfect colored window films for your building's interior. Options include bold colors, such as blue, green, yellow and red, and neutral tones, such as black and white.
Patterned and Gradient Decorative Film
Llumar and Hüper Optik also offer decorative film options that add patterns or gradients to enhance your building's appearance. Whether you want to go with a pattern or gradient decorative film, you'll find a wide selection to choose from at American Tinters.
Pattern options range from a simple frosted design to more elaborate designs, such as white wood grain, etched squares, and a modern metro look. You can even have patterned decorative film that resembles blinds for added privacy. Gradient options include grass blades, dot matrix design, blizzard design, blinds, and more.
Custom Interior Window Films
When you want to give windows, partitions, and other surfaces a distinctive and unique look, American Tinters offers high-quality custom interior window films. These films feature your own original design ideas so that you can draw attention to particular areas inside your building. American Tinters can help you create a custom design for your interior window films – whether you want to feature your logo or a pattern that relates to what your business offers. You can also use artwork or photography for your custom design.
No matter what kind of custom design you have in mind, you can count on the specialists at American Tinters to bring it to life on your interior windows. We'll work closely with you throughout the design process and install the films for you once you've decided what you want.
If you're looking for decorative window film services for your commercial or residential building, contact American Tinters. Our window film experts can help you choose the best high-quality premium ceramic decorative films for your windows, including custom films or colored window films.