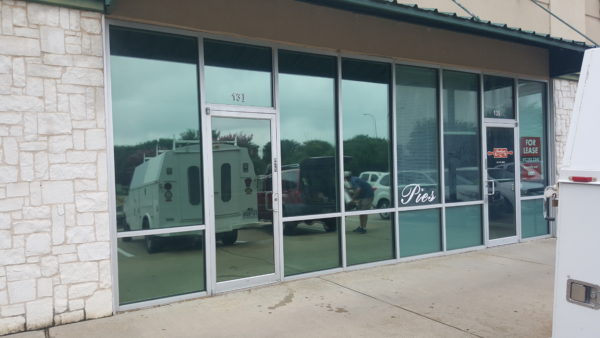 Window Film for Commercial Purposes
Conserve Energy, Protect your Assets, and Improve Aesthetics
The windows on your commercial building are great for allowing natural light come in, but too much sunlight can have a negative effect on your interior. Commercial window tinting from American Tinters is a smart way for you to control the amount of light and heat that enters your building's interior, resulting in improved comfort and reduced energy costs. Window tinting can also be used to improve the appearance of your commercial building and establish an extra "layer" of security.
Our high-quality premium ceramic window films can help add value to your property, enhance its appearance, and provide other practical benefits. American Tinters offers a wide selection of Llumar and Hüper Optik window films for commercial buildings – whether you want to increase your energy efficiency, establish a layer of security, or decorate an interior window. No matter what your specific needs are, our experts can make sure that you get the ideal film.
From reduced glare to enhanced security, window tinting offers numerous benefits. When you invest in solar, safety, or decorative window films for your commercial building, you can enjoy these benefits without incurring the great expense of replacing your windows.
Solar Window Film
Reduce Heat, Sun Damage, and Glare
Our Texas heat is brutal! Air Conditioning systems work overtime for most of the year, causing energy costs to rise. Sunlight can also cause too much glare on computer screens, making it difficult for employees to work. Natural light also fades the original color of carpets and furniture, which can impact the appearance of your building's interior. Fortunately, Llumar and Hüper Optik solar window films can help control the amount of heat and damaging solar rays your building gets from the sun.
American Tinters has solar window tinting services available for commercial customers in the Dallas-Fort Worth area. With this type of film on your windows, you'll have lower energy bills, less glare, and furniture and carpeting that doesn't fade very quickly. We have the knowledge to help you choose the best kind of solar window film for your building so that you can reduce energy use, create a more visually comfortable environment for tenants, and protect decor from costly sun damage.
Safety and Security Window Film
Protection from Intruders, Blasts, and Storms
Your commercial building's windows provide intruders with convenient ways to get inside. The windows of your building can also become a danger to occupants if the windows shatter. Wind and rain from storms increase interior damage. You can reduce these risks by having American Tinters install safety and security window film on your building's windows. This type of film creates a strong barrier against wind and rain damage.
At American Tinters, we can help you decide between clear and solar security window tinting for your commercial building. Our specialists can make sure that you have window tinting that provides you with the added security your building needs to keep you and anyone else inside safe from harm. These films also help protect any valuable items and equipment you have inside your building.
Decorative Window Film
Privacy Frosts, Patterns, and Custom-Printed Films
Decorative window film for commercial buildings can dress up plain interior windows and partitions. This type of film can also add privacy to offices and other areas inside your building. Whether you want window film that boost your building's aesthetics or custom films to display your logo, we can help. American Tinters provides a large selection of decorative window films to choose from for your commercial building in the area north of Dallas/Fort Worth.
We have frosted and textured decorative tinting available, as well as gradient and patterned films. Our options also include colored window films in bold or neutral colors, along with custom-printed films for partitions and interior windows
If you're looking into commercial window tinting for your business, contact American Tinters. We have specialists who can help you select the right premium ceramic window films for your commercial building and install them with expert precision.